Cloud Backup for Small Law Firms
We back up your entire computer to the cloud for $9 / month. No hidden fees or price tiers. All of your files. For the price of a couple cups of coffee. Your privacy, guaranteed.
Try Free for 15 Days
Open Source Encrypted Mac & Windows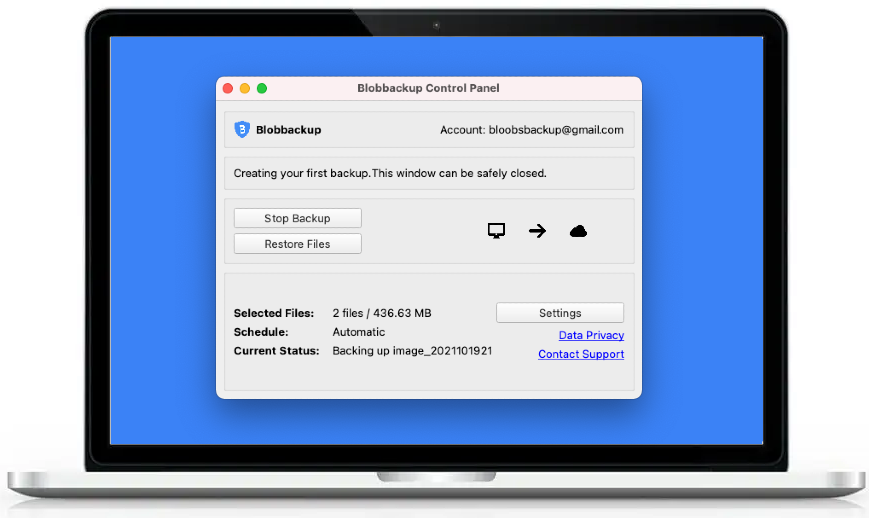 Don't Risk Losing Your Files
Remember that time you almost spilled coffee on your keyboard? Or that time you left your laptop in your car? Liquid damage and computer theft are just two of the many ways you could lose your files. Here are the Top 9 Causes of Data Loss.
1. Accidental Deletion
People accidentally deleting or overwriting important files is the most common form of data loss.
2. Virus & Ransomware
Downloading the wrong file or using insecure Wifi can infect your computer with viruses or ransomware.
3. Hard Drive Crash
Both classic hard drives and modern solid state drives can and do fail through no fault of the user.
4. Power Outages
Sudden power outages can corrupt your files as well as various computer hardware components.
5. Computer Theft
If you travel with your laptop or work in public spaces often (eg: cafes), you're vulnerable to computer theft.
6. Liquid Damage
Spilling coffee or water on your computer can cause a short circuit, making data loss very likely.
7. Sudden Disasters
From tornadoes to fire, disasters can happen unexpectedly. And when they do, data loss is inevitable.
8. Corrupt Software
Improper software shutdowns and failures at the wrong time can cause serious issues for your data.
9. Hackers & Insiders
Bad actors on the internet or even inside your home/business can cause harm to your important files.
How Blobbackup Works
Blobbackup is an app for your Mac or PC that protects you from data loss by automatically backing up your files to the cloud. Unlike others, we're built on a foundation of Privacy, Security and Open Source Transparency.
1. Download Blobbackup
Create an account and download our Mac or Windows application.
2. Quick Install
Install our application on your computer with a few simple clicks.
3. Automatic Backups
Let us automatically keep you protected from data loss.
Secure Offsite Cloud
Data is stored in datacenters with 24/7 staff, biometric security and redundant power.
Everything is encrypted with your password and we never store or transmit your password.
All code is available for analysis, audit and review. There are no tricks under our sleeves.
Full Computer Backups
Protect all your files including documents, photos, music, movies and more. No need to choose.
Pay for and manage your family's computer backups from our simple centralized web admin panel.
Perfect for Small Business
Easily protect your employees' computers while respecting their personal privacy.
Blazing Fast Restores
Restore from our app as fast as your internet allows. No download limits or wait times.
Extended File History
Old versions of files and deleted files are kept on our secure cloud for as long as you need.
Simple Monitoring
Get notified via email when your computer hasn't been backed up for over 2 weeks.
$9 / Month / Computer
Fast email support and 2,000 GB of storage per computer included. Start protecting your computer data today.
Try Free for 15 Days
No card required. Cancel anytime.
Frequently Asked Questions
Why do I need a cloud backup?
It's not a question of will you lose your data—it's when. Whether it's a catastrophic event, such as an earthquake, fire, flood, or the more common virus, hard drive crash, laptop left in a Uber, or coffee spill, your computer will eventually lose your photos, music, and documents.
I bought external storage (HD, SSD, NAS). Am I safe?
It's a good start. But do you back up your data every day (Blobbackup backs up every hour)? Or do you sometimes forget? Are you sure you're backing up the right files? Are your computer and external storage in the same place, making both susceptible to the same risks? What if you go on a trip and leave the external storage at home? You can't back up or restore files while you're gone. And if you take it with you? Then you're more likely to lose both your laptop and external storage at the same time!
I use a sync service like Dropbox. Am I safe?
Services like Dropbox and Google Drive synchronize folders between devices. While it's better than nothing, it's not a computer backup. Only data inside a few folders are in the cloud (not the entire computer), ransomware and accidental deletions are still issues, there's no end-to-end encryption, and you'll pay roughly 2-3 times as much for the amount of storage Blobbackup offers. Sync services are designed for collaboration while backup services are designed for disaster recovery.
How am I backed up with Blobbackup?
You download a tiny application that installs in a few clicks and doesn't require a credit card or any information to start using. The application automatically finds all your photos, music, documents, and other irreplaceable files—no matter where they are on your hard drive. Then in the background, the application makes an encrypted copy of the files on our secure cloud. Thanks to efficient algorithms, we can do this every hour in the background without hogging computer resources.
Can't I recover data from a dead hard drive?
Sometimes, but it will be very expensive. Data recovery companies will charge up to $3,000 to attempt to recover your data with no guarantee that you'll glean anything from it. For the price of one attempted $3,000 recovery, we can back up your computer for 28 years at $9 per month.
Can your employees see my files?
No. All your files are encrypted before it leaves your computer with your password. Your password is never stored (or even sent) to our servers and we use state of the art encryption algorithms.
Can I pay yearly? What are the payment options?
We only offer monthly billing at this time. We will bill you $9 per computer every month after your trial ends. We accept payment via credit card, debit card and PayPal. We don't accept orders, checks, ACH/wire or cryptocurrency.
Are taxes included in the price?
No. Any taxes we collect are in addition to the per computer price. Whether or not we collect tax and how much depends on your jurisdiction.
Will I be charged when my trial is up?
No. We don't ask for your credit card up front, so you'll only be charged when you decide you're ready. If you want to continue after your trial, we'll ask for payment details. If not — cancel with a click, no questions asked.